About TENLOG
Our story
Founded in 2014, TENLOG 3D was founded by professional software and hardware engineers with more than 10 years of R&D experience. The independent dual extruder TL-D3 Pro/Hands 2 Pro/TL-D5/TL-D6/DLP 3D printers we developed are composed of independent dual extruder 3d printer, filled in the market blank, and have obtained CNIPA invention patents. Parts and motherboards are developed by us. We offer a 1 Year Warranty and lifetime technical support.

We believe that the TENLOG Independent Dual Extruder 3d printer will bring A New Times and a New Standard!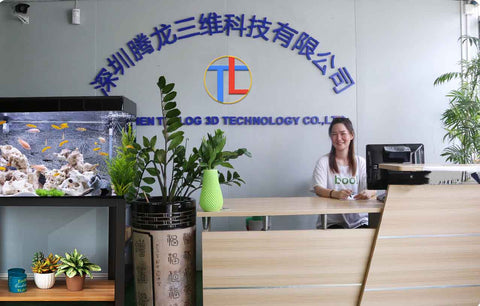 DMP 3D Printing System?
DMP stands for Dual Material Printing or Duplication & Mirror Printing. It can move 7-axis at the same time and has the firmware collision avoidance function of running two nozzles efficiently. The DMP 3D Printing System provides efficient Dual-Material 3D Printing, Duplication Printing, Mirror printing, and double the 3D printing capacity, saving you time!
What's Dual Material Printing
Nozzle Temperature, Extruder Retraction Speed, Print Speed, and Infill Density are separately set for each nozzle. Even with different diameter nozzles, the Tenlog Dual Material 3D Printer can seamlessly print.
What's Duplication Mode Printing
Double the printing efficiency and save your time, Get the object's twins right away!
What's Mirror Mode Printing
Print two symmetrical models, two nozzles full-time double-drive printing, and immediately get the objects in the mirror!
Our Aim
Tenlog 3D is moving forward in the direction with an aim to be the market leader in the 3D solutions offering Multi Nozzle 3D Printer and service. We are achieving this by offering the most innovative solutions to the market along with excellent service, building up long-term business relationships, and by focusing on customer satisfaction. Along with this, we also offer a high level of product support both before and after purchase.
Quality Commitment
Each Multi Nozzle 3D Printer and DLP 3D Printer has to undergo a continuous print test of more than 24 hours. This packaging carton has passed the 1 meter violent drop test.
Our Service
Provide a 2-Year Warranty with shipping charges only!
Free shipping for quality problems within 1 year!
Technical support for life!
Customer Satisfaction
We strive to be the best in the business. If you have any problems and/or questions, we are here to help. We answer our emails and phone calls 24x7 to ensure a quick answer to your questions. And, if there is ever a problem, we are going to do all that is possible to resolve the issue. We want all our customers to be fully satisfied with our products and customer service.
Find us
Address: No. 401, Building A, No. 51 & 53, Pinshun Road, Guixiang Community, Guanlan Subdistrict, Longhua District
Phone: +86 18903023867 mailbox: service@tenlog3dprinter.com