Description
TENLOG TL-D5 Independent Dual Extruder 3D Printer Video
TENLOG TL-D5 V2 Independent Dual Extruder 3D Printer Specifications
Name:
TENLOG TL-D5 V2 Independent Dual Extruder 3D Printer
Manufacturer:
TENLOG 3D Printer
Model Number:
TL-D5 V2
Color:
Black
Material:
Aluminum
Package Size:
86*90*27cm
Expand Size:
78*75*100cm
Sheet Heatbed 

Area:

510*510

mm

Printer Volume:
500*500*600mm
Copy Mode Size:
250*500*600mm
Mirror Mode Size:
220*300*350mm
IDEX Printer Weight:
28K
Package Weight:
48Kg
Power Source:
AC 100-240V 50-60Hz

Max Nozzle Temperature:

≤285

℃

Max Hot bed Temperature:

≤80

℃
Filament:
1.75mm TPU, PVA, PLA, ABS, HIPS, WOOD, PETG, FLEXIBLE,Nylon
TENLOG TL-D5 V2 IDEX 3D Printers Features
◉ 🐳【Independent Dual Extruder Design】 Our TL-D5 V2 IDEX 3D Printers has double nozzles that are independent of each other, allowing you to print in duplication and mirror mode. You can also choose two different colors or materials to create at the same time or print with soluble support (such as PVA 3D Printer Filament) to precisely implement models that are difficult to lay down.
◉ 🐳【high-speed printer】 up to 500mm/s print speed,fast and quiet

◉ 🐳【Self-developed Silent Motherboard】 The TL-D5 IDEX 3D Printers built-in self-developed silent motherboard TENLOG TMC2209 Driver, which has stronger anti- interference, faster and more stable motion performance, silent printing and low decibel operation.
◉ 🐳【Easy to Assemble】 The printer comes with several pre-assembled parts. You can assemble the 3D printer in 3 steps, with the user manual, in about 5 minutes.
◉ 🐳【Metal scraper】 when using dual-material mode, the IDEX 3D Printers Metal Scraper is afraid that it will wipe the remaining filament on the nozzle, so there is no need to use a Enable Ooze Shield and a Enable Prime Tower to print the dual-color mode.
◉ 🐳【Multi Printing Material Available】 Our TL-D5 V2 IDEX 3D Printers works on sorts of materials, such as 1.75mm PLA ,TPU,PVA,PP, ABS, WOOD and so 3D Printers Filament on. 
◉ 🐳【Optical Limit Switch】Change the mechanical limit switch to an optical switch, which improve printing accuracy and model precision.
TENLOG TL-D5 V2 IDEX 3D Printers Details
1. 600W power supply:
TENLOG 600W Brand Power Supply, quality, and service are more trustworthy to ensure the stability and safety of operation.
2. Linear guide:
Equipped with industrial-grade linear guides-providing smoother performance, less friction, and higher accuracy.
3. Optical switch/photoelectric sensor:
Change the mechanical limit switch to an Optical Switch, and its function will be more accurate and precise.
4. Modular Design:
The simple base and gantry modularization allows DIY manufacturers, even complete novices, to assemble in minutes.
5. Double Z axis design:
Two Z-axis screws and stepper motors drive the vertical axis of TL-D5 V2 IDEX 3D Printers, greatly improving the accuracy and precision up to 0.001 mm, making it a true professional printer.
6. Resume Printing:
Upgraded to the continuous printing function after power failure, the printer can continue to work even if the power fails unexpectedly.
7. Filament Rounout Detection:
No need to worry about the shortage or breakage of consumables, the smart Filament Rounout Detection will detect this and pause your printing to resume printing after new consumables enter.
8. Single printing mode:
Single mode volume up to 500*500*600mm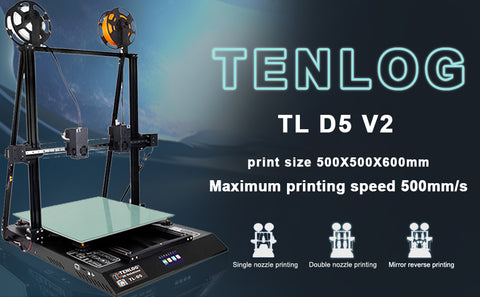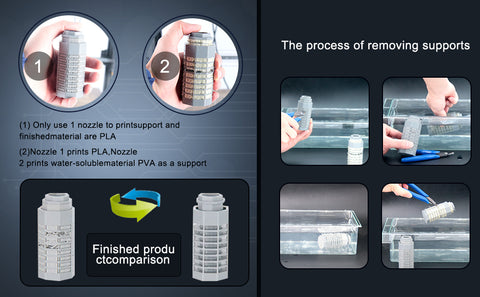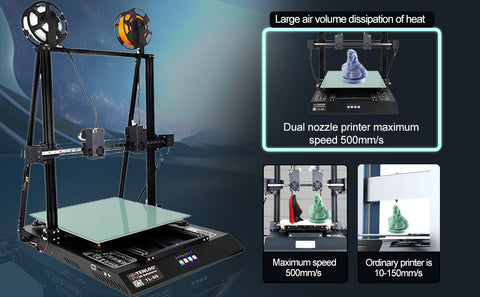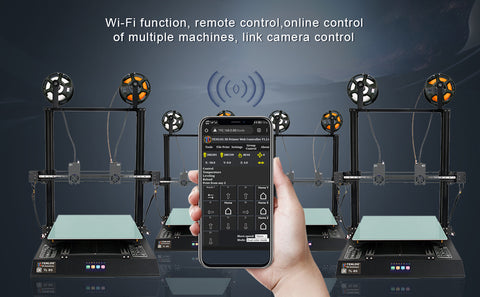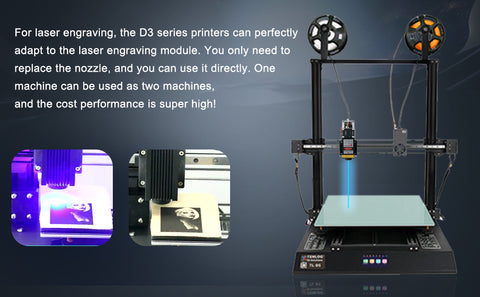 Payment & Security
Payment methods
Your payment information is processed securely. We do not store credit card details nor have access to your credit card information.
---
Security